Marijke de Jong Photographer:
Just as I knew I always wanted to birth at home, I knew I wanted Anne Sharplin as my midwife. It was a knowing from that place in the heart that the mind has no place to disagree with. I have had the absolute privilege of experiencing Anne Sharplin as a midwife with my own pregnancies, births and with postpartum care, as well as photographing her during several other women's birth journey's just before she retired as practising midwife.
Anne has a breadth of experience that runs deep in her bones, one that was instrumental in feeling safe leading up to and during my labur. The type of midwifery that has been performed masterfully for millennia, that aids the birthing of a mother as well as the safe passage of a soul from one realm to another. She performs her artistry with a quiet authority, deep attunement and presence. This art cannot help then be infused within the mothers lived experience.
I witnessed Anne advocate for life in countless ways, knowing that she would be judged by other medical professionals was never a reason for her not make seeming bold decisions. In the births I photographed there were many dangers lurking; a baby that needed intubating, severe blood loss when birthing the placenta, low birth weight that worried the doctors. Anne navigated each situation with poise, grace and a decisiveness I aspire too. 
My passion for capturing the essence of Anne's work comes from my belief that a well nurtured and empowered mother is able to hold the stability for the family, thus creating an environment conducive to raising our little ones to become sovereign, balanced individuals that can then move in the world and be part of the change we so need. 
Nicole Mitchel's testimonial:
I believe Anne Sharplin is a legend in New Zealand midwifery and feel beyond blessed that she guided the safe, gentle and sacred homebirths of my children.  The space and energy Anne held throughout my pregnancies and births was beyond measure. 
She cultivates trust from years of following her hearts work and her guidance of the life-bringing realm comes from a deep place of knowing, that women hold the ancient wisdom within to birth naturally.  I felt so well cared for and cradled in her embrace of knowledge.  She allowed me to be fully empowered in my experience during labour, letting me navigate the portal of birth as she observed deeply and offered gentle encouragement. 
I felt such a sense of trust as she softly and kindly guided me in the times of intensity and uncertainty.  I'm so grateful I was able to experience birth in this way… at home, without intervention, in a nurturing, loving environment.  It was such a gift to feel safe enough to fully surrender knowing Anne had my back the whole way.  Giving birth to my sons were some of the most powerful moments in my life and I was so lucky to have Anne Sharplin as my guide.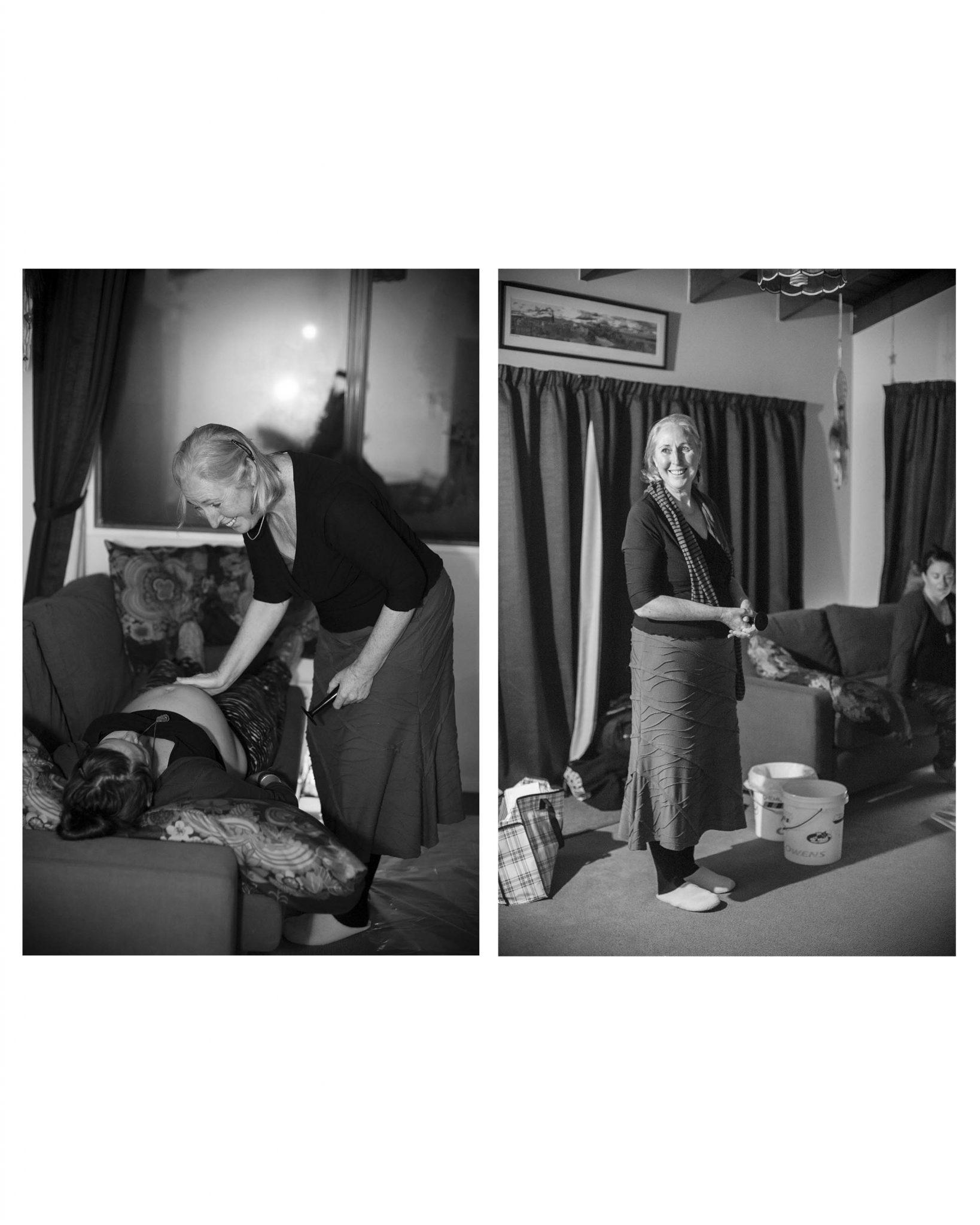 Stephanie Harper's Testimonial:
I feel so incredibly lucky that I got to have Anne as my midwife. She was as old school as you get -Pinard horn (foetal stethoscope), hanging baby scales and all, it was awesome! I had my heart set on the most natural birth possible and while some things didn't quite go to plan, with Anne's assistance, I really couldn't have asked for more.
To have the support of someone with so much experience, knowledge, confidence and trust in the birthing process meant I never once felt scared or worried during my birth. Even when Mahla (my daughter) was born and wasn't breathing properly, Anne didn't panic, so I didn't either. either.
She had all the calmness you would expect from someone who had been facilitating births for 40 years and attended over 2500 births. She was/is an absolute blessing to the midwifery community and to all the families she supported during her work.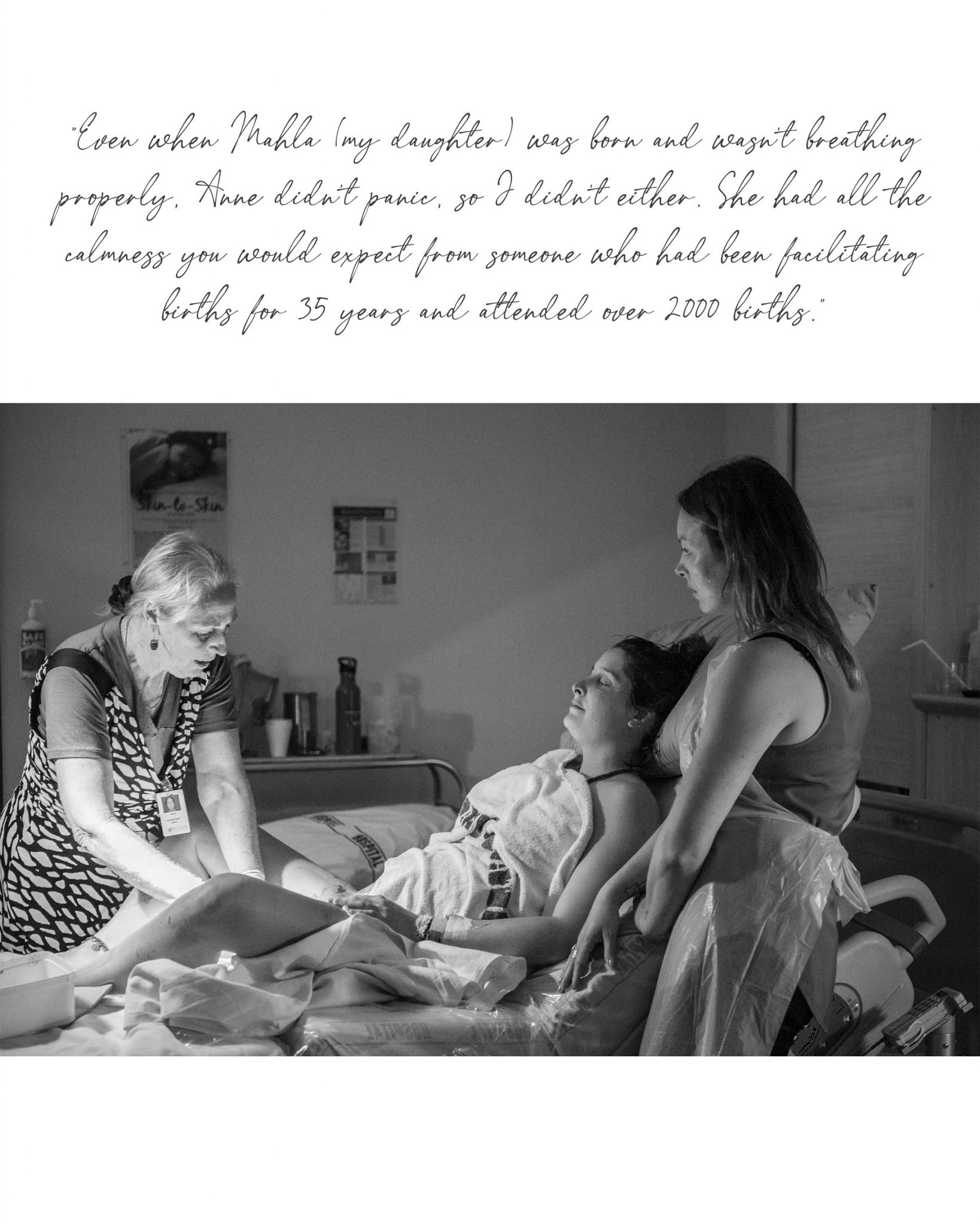 Marta Willlis's Testimonial:
I feel so privileged being able to experience Anne Sharplin's beautiful midwifery care. Especially after my technocratic medical modelled midwifery training back in Hungary.
During my first practical week I knew I wanted to give birth to my future babies differently. Deep within my heart I knew that it could not be the only way, that a women's body is designed to give birth naturally. I know C-sections and interventions can be lifesaving, but what experienced was that it was often interventions that led to emergency situations.
So my search began to find a country that makes choice possible…..This is why I came to this beautiful country; New Zealand.
Up until I had my own babies I did not see any birth that did not have any intervention…
I feel so blessed that I could have Anne Sharplin as our midwife for both of our babies, just in time before she retired from her 40 years of practice, helping around 2500 babies Earth Side.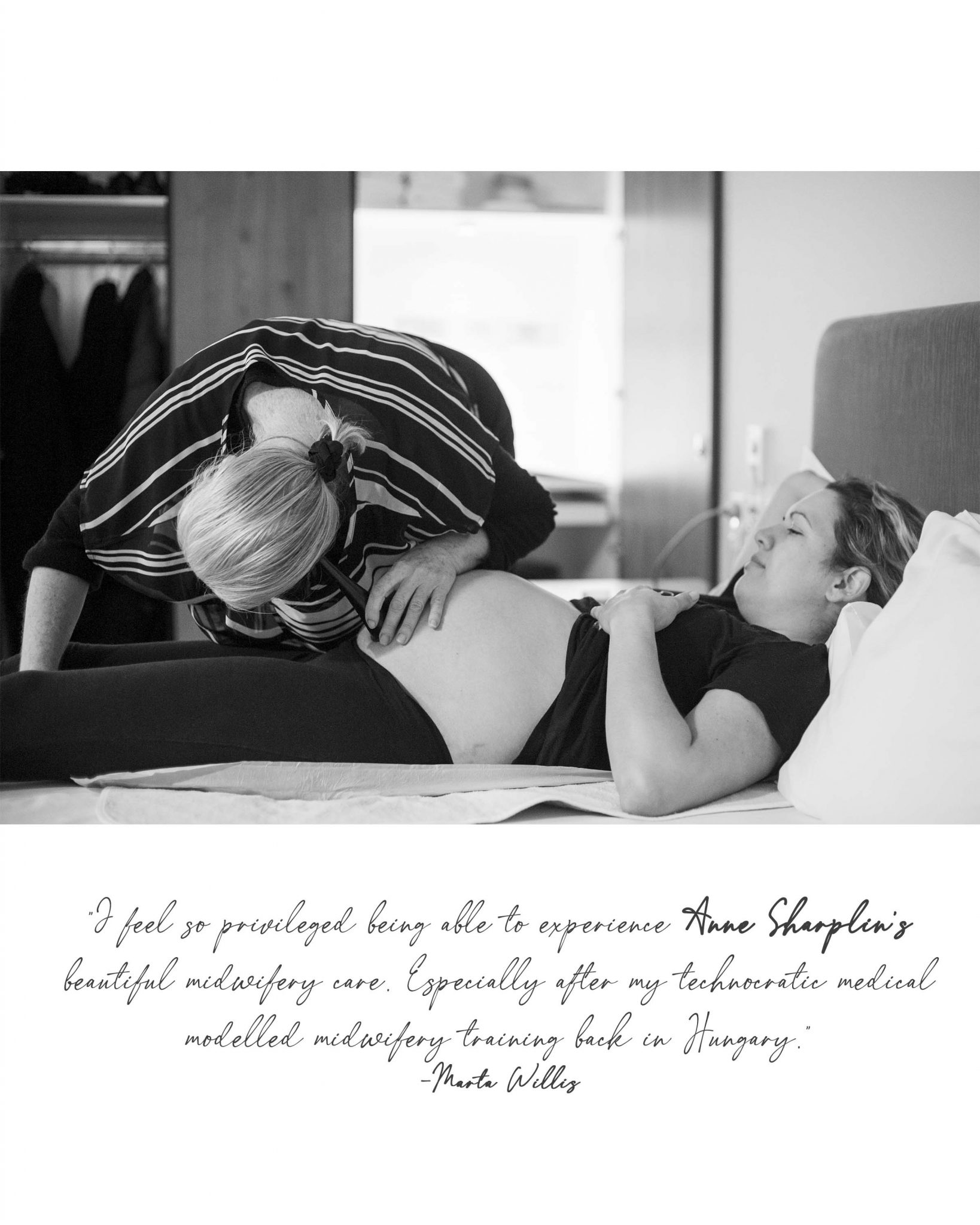 Anne is the loving embodiment and a master of how to be with women. She carries the special essence and knows how to hold the birthing space sacred, and how to create an empowering experience for everyone involved in the birthing process.
This is what midwifery is about. To be honest it is hard to put into words what I feel about this beautiful woman who gently guided and was my companion through my pregnancies and births.
She simply knew when to say something and how to say it. Maybe it was her Buddhist background. During her care she always formed answers to my questions in a way that made me feel I was the decision maker. She has always been so empowering, reassuring and uplifting. I've asked her to treat me as a Brand New Mama, not like someone who is a trained birth worker.
She did, and I've learnt so much from her, and  realized how much I did not actually know. During my 3 years training I've never had a chance to experience this way of midwifery. This is something they should teach to everyone who is working with women and with people in general. I knew and can trust her with our beating hearts. Both mine and our babies, and she never made us feel it is a burden for her.
I don't know many other midwives who would hold a grounded space to be in the second stage of birthing, (in pushing stage) for 5 hours. We both been well. She trusted me, my ability to give birth naturally, so I could truly trust and tune into my own body, and full heartedly embrace the process.
And then when our second little one stopped breathing a minute after she was born, she calmly and reassuringly navigated this and talked us through what will happen, and how we will do everything… together.  And so she did. I believe the reason our daughter is here and healthy today is because of her. And most of all I will be forever grateful that she made this event almost trauma free for me. Later at her postpartum visit she held us space again. A space for me and my husband to talk about how we felt in that moment, and how we experienced it and lived through what was happening. And then I've asked her how it was for her. She said despite being so calm on the outside her heart was beating fast and she knew she will have to do everything she can for our little one.
I will carry my birthing memories as treasures for the rest of my life, and I feel blessed Anne was part of our journey and shared this way of midwifery with us.
This exact experience is what makes me want to fight for our midwives in Aotearoa. We need to keep this way of midwifery in New Zealand. I want our daughters and granddaughters to have a choice to give birth with and LMC. Dear mama's we need to support our beautiful midwives more than ever, so the future generations could come to earth side is a same, gentle way.
About the Creator:
Marijke de Jong, originally from the Netherlands, is a creative practitioner engaged with actualising social change through visual storytelling. She turns to nature and ancient wisdom for inspiration and believes that art can be a potent vehicle for accessing the unconscious in order to bring about new paradigms. She engages with lens based technology and other mediums as an installation artist and editorial fine art photographer.
You can follow her on Instagram: @photographybymarijke